From first discussion to the final product, we provide the expertise and product knowledge that will please you and achieve the results you deserve. For years we have been providing clients with the highest quality flags and banners available using the best materials and techniques.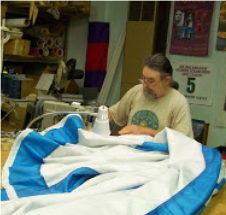 We service Business, Schools, Orginizations, Clubs and Individuals -- Nationwide!

Established in 1973, we are located in the Hudson Valley of New York State.
Our customers number in the thousands. We have years of proven experience and expertise.


Prompt Quotations
Construction and Design Advise
Superlative Quality
Best Equipment for Best Results
Quality Fabrics and Materials
And Most Importantly - PRICE!
If you are looking for the right source, those who can excel at the craft of flag construction. Look no further!